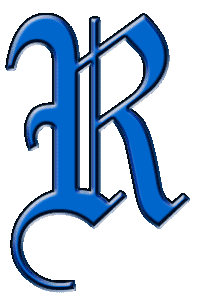 usswurm Family History
The George and Christina Russwurm Family
This Studio Family Portrait pictures one of Valentin Russwurm's sons, George Russwurm along with his wife Christina (nee Ruetz) Russwurm with their seven daughters and three sons arrayed between them. Click on the photograph to see a larger version. The youngest son in the center is my grandfather Andreas, who was known in the wider world as "Andrew".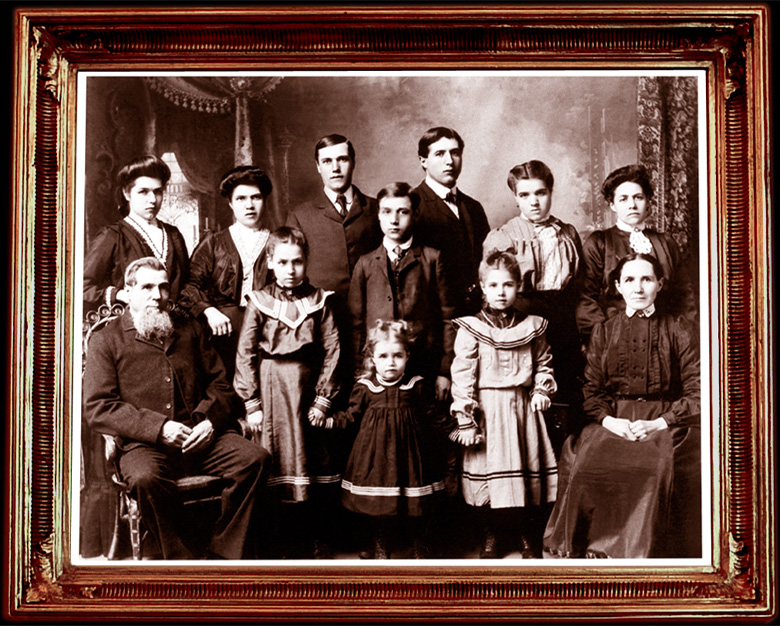 The formal GEORGE AND CHRISTINA RUSSWURM FAMILY PORTRAIT (circa 1905)
BACK ROW: Catherine (Katy) Wiseman, Adeline Amrell, Otto, Andreas, George Jr., Mary, Christine Brindley
FRONT ROW: George Russwurm Sr., Lydia, Lavina, Lizzie Wiseman, Christina Ruetz Russwurm
Sadly this portrait does not include George and Christina's two children who did not survive, Alexander (1883-1895) and Emma (1889-1893). I'm dating this photograph at 1905 since Lavina, the baby at the center of the front row looks to me to be about three years old.
The information I will be including here is as I remember it. So it's not necessarily the definitive truth, it's meant as a starting point. If I have gotten facts wrong, or if there are alternative versions of any of the stories included-- especially if your version is better-- please let me know. Like most kids I didn't listen when I should have, and like most adults my memory doesn't work as well as I want it to.
Snapshots
I can just can imagine the discussion:
"Why go all the way into town to the photographer when the neighbor's camera can make us a picture just as good..."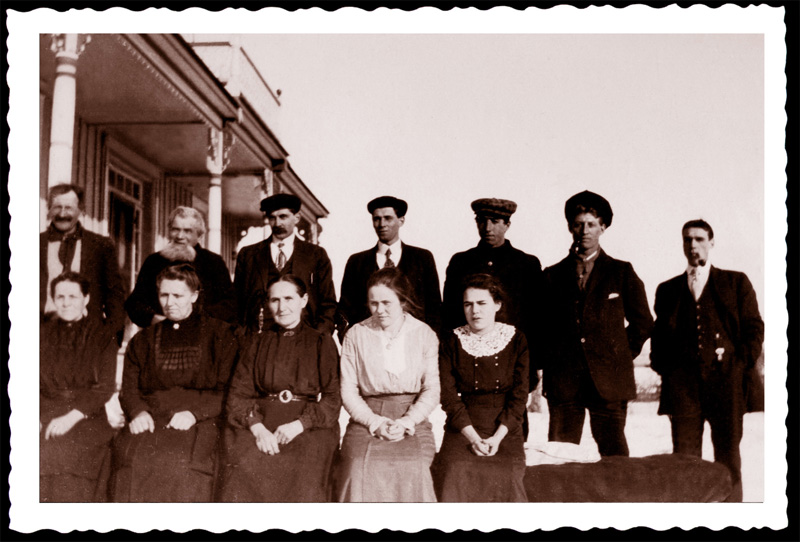 The above amateur snapshot would have been taken around a decade after the studio portrait (the girls are all grown up). Everyone is arrayed in front of the family homestead, so my guess is the additional young men are sons-in-law. There is no way of knowing if the absent Russwurm children were just a bit too far to the left or away from home.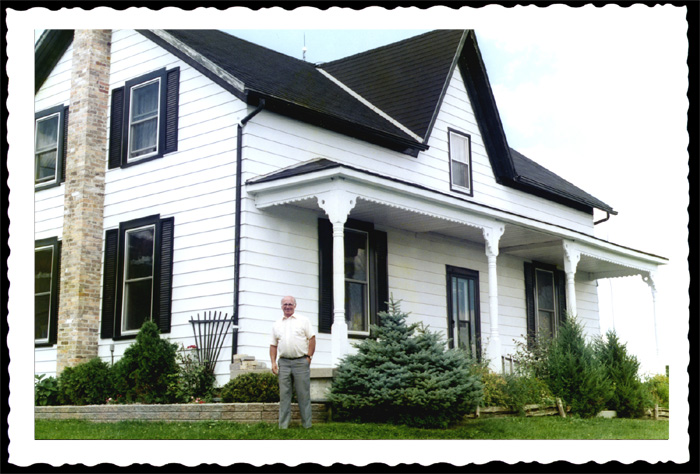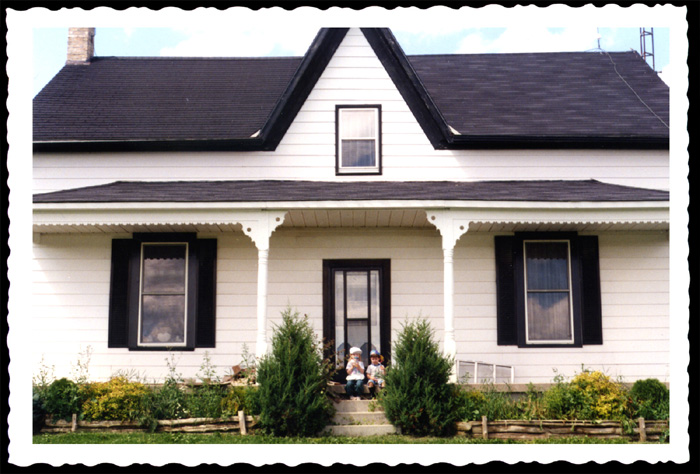 You can see the same gingerbread on the porch about seventy years later when George and Christina's grandson Lynn poses in front of the former family home. Lynn and Lorne were both born in this house, since Andrew and Greta (Anna Margaretha) lived with George and Christina for the first few years of their married life.
Anna Margaretha Boettger and Andrew Russwurm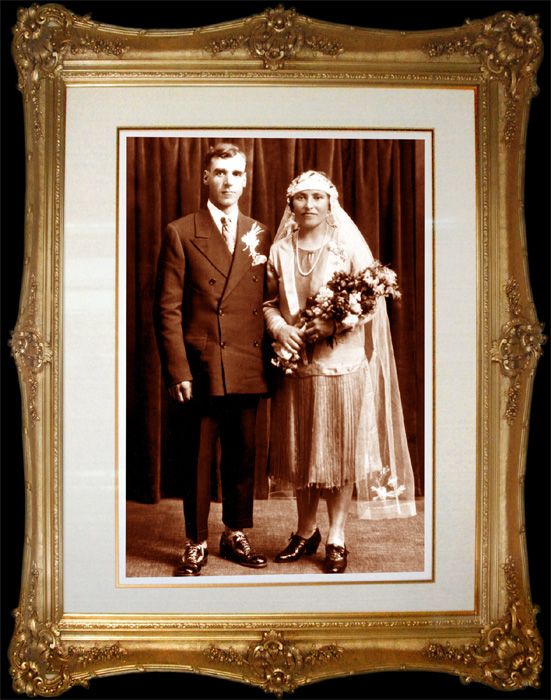 Andrew married Anna Margaretha Boettger on June 22nd, 1927.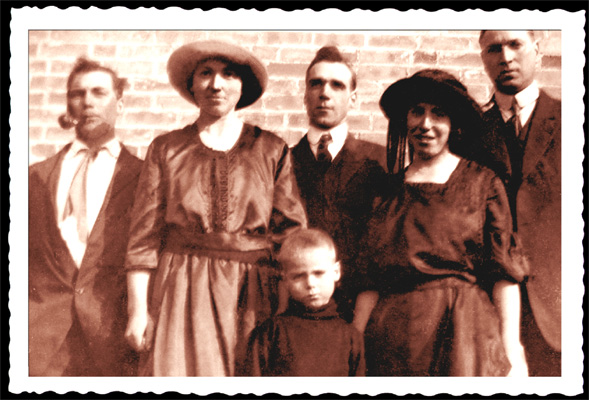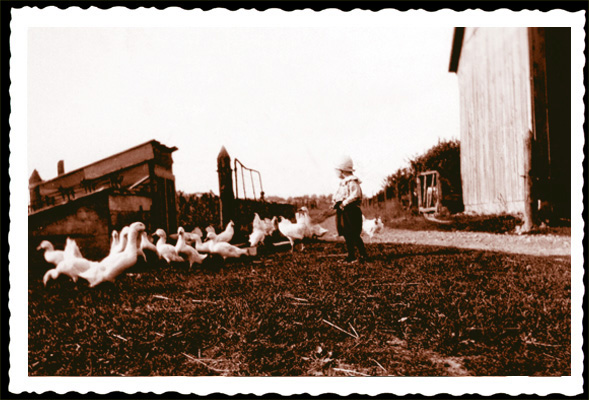 In the 1920's Greta Boettger immigrated from Niederjossa, Germany in search of work. She met young Andrew Russwurm and the rest was history. I've been told that the little boy feeding the ducks and the chickens is my uncle Lorne, so the farm yard would have to be the one at George and Christina's house.
Andrew and Greta's Home Farm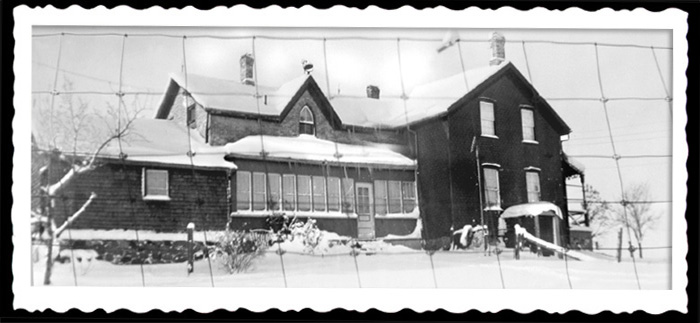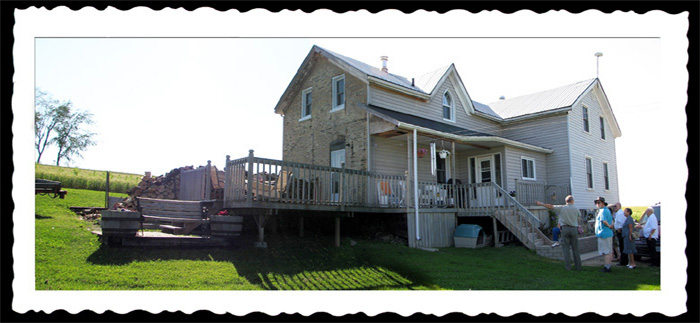 Around 1935 Andrew and Greta Russwurm moved their young family to this farm, pictured in the 1940's and again in 2008 where its is being beautifully restored by the new owners (who very graciously allowed us a tour!)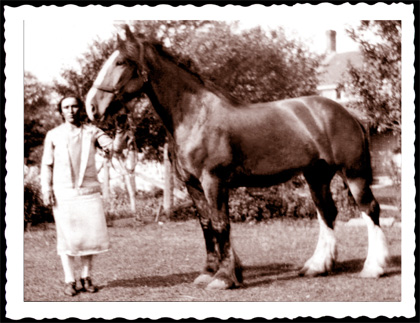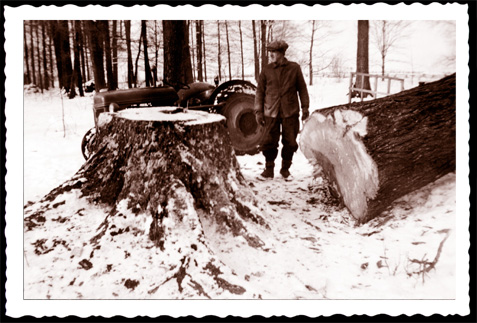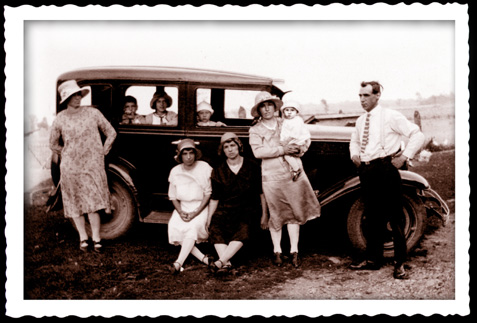 The horse Greta poses with was probably replaced by the tractor behind Andrew in the tree felling picture.
Andrew and Greta were the first in the community to own an autombile. Andrew stands beside Greta holding infant Lynn, so this family car picture proabably dates from 1932. My guess is that the lad in the front passenger seat would be Lorne, almost 2 years older than Lynn, but I have no idea who the other people in the photo are.
When I first put this page up I referred to my grandmother Anna Margaretha as "Anna", but I've just gone through changing all the references because she was actually called "Greta." according to Aunt Doreen. It seems that her older sister was also named "Anna". My best guess is that the sisters were named for two different relatives.
If anyone can identify any of the other unidentified folks in this or any other on this site, please let me know.
Regards,
Laurel Russwurm
---
---











---
---